Despite a strong operational plan, the 2020 Census has been delayed and plagued by the pandemic. The national non-response rate is currently 37%, as the U.S. Census Bureau works to meet its mandate to finish field work by the end of September, to complete an accurate count by December 31.
We tested a new, modern approach to help Atlanta meet this challenge.
By any measure this limited one-week test was a success and proof of the cost effectiveness of our Census Click to Call Program. We generated 3,210 calls to Census Call Centers responding to the census. These calls increased the Atlanta Census Count by 1,010 for a cost of $19.20 per individual added. That gives the program a 116X annual return on each dollar invested (based on Fulton County's estimated $2,300 in increased Federal spending per person counted https://www.fultoncountyga.gov/inside-fulton-county/fulton-county-initiatives/census-2020).
ATLCounts Test Program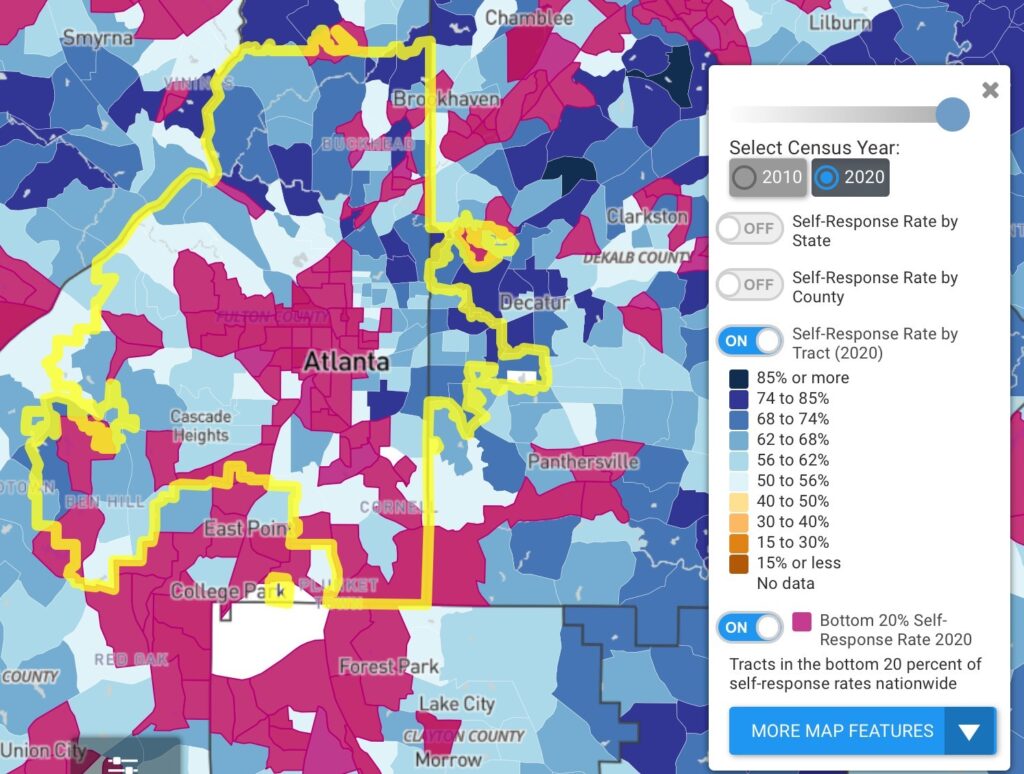 During ATLCount's one-week test (7/27-8/4) of our technology, we ran a million banner and video impressions to generate call-in Census Responses from residents of the City of Atlanta's under counted census tracts. English language ads targeted English speakers and Spanish ads were delivered to residents who preferred Spanish based on their mobile device settings.
ATLCounts provided us with banners picturing their Mayor and a powerful video in which the late Representative John Lewis encouraged Atlanta residents to respond to the Census.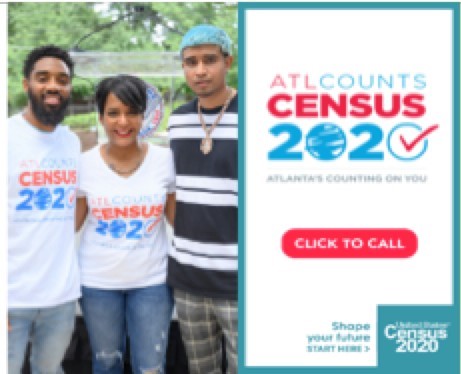 Our other video and banners, using Census Bureau creative customized for Atlanta, performed equally well, in English and Spanish.
How it Works
Although the Census has call centers staffed with operators fluent in 10 non-English languages, the Bureau is not using the best methods or technology to find non- English speakers and connect them to their correct call center.
With our technology partner we have developed a program that can target hard-to- reach audiences using click-to-call ads, uniquely targeting a combination of data signals from mobile phones including geographical household analysis. By detecting the phones language settings we deliver ads in the person's preferred language that connect to the Census Call Center for their language.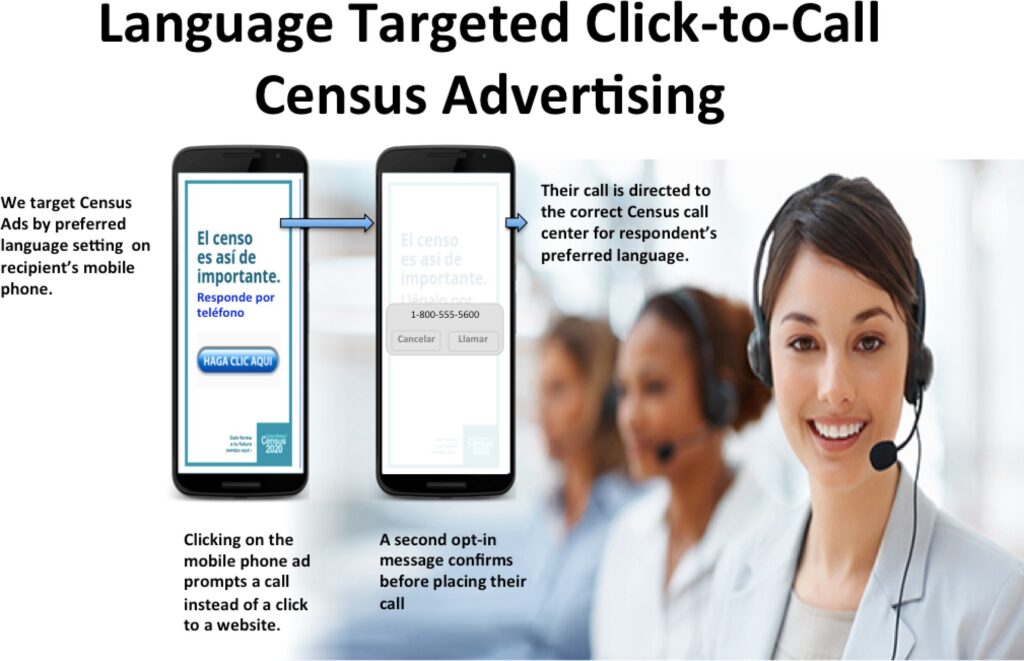 ATLCounts Test Result Breakdown
| | | | |
| --- | --- | --- | --- |
| Census Tract | Count Increase | Increase in Federal $* | Over 10 Years |
| 30 Targeted Tracts | 735 | $1,690,500 | $16,905,000 |
| Spanish Hispanic Campaign | 275 | $632,500 | $6,325,000 |
| Total Increase | 1,010 | $2,323,000 | $23,230,000 |
| Campaign Cost | $20,000 | | |
| Cost Per Individual | $19.80 | | |
| RIO Per $ Spent | | $116 | $1,162 |
*Fulton County estimate of $2,300 increase in Federal $ per additional person counted https://www.fultoncountyga.gov/inside-fulton-county/fulton-county-initiatives/census-2020
Other Lessons from the ATLCounts Test
The 30 Targeted Tracts had a higher response rate during the test than the City of Atlanta, Fulton County and the state of Georgia.
The Spanish/Hispanic ads performed on par with the English Ads
The ads performed significantly better over the weekend than on weekdays. Overall the ads had a 25% better Click-Through Rate (CTR) on the weekend. The effect on the video ads was especially pronounced with a weekend CTR almost 3X the weekday rate (.62% vs. .22%).
We also believe the calls generated over the weekend resulted in greater completed responses because of reduced call center wait times.
The events memorializing Representative John Lewis had a definite impact on response to the video featuring him. Prior this funeral, the ad was getting a below average .2% CTR, while on Friday (after his funeral) the CTR was
.56% and on Sunday it was 1.06% — the highest one day CTR of any of the ads.