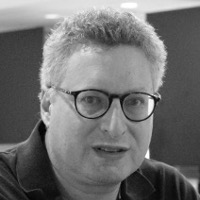 Roger Alan Stone
President Advocacy Data
202 412-6616
Roger Alan Stone is a political Internet pioneer, innovator and entrepreneur.   Working in politics and advocacy since the mid 80s and in the political Internet since 1998. He's combined his knowledge of the practical needs of campaigns with cutting edge technology to invent many of the techniques used throughout now throughout our industry.
After working on seventeen elections in fourteen states, as well as on the Hill for two Representatives and a Senator he'd helped elect, Roger went to Law School at Columbia, clerked for the DC Court of Appeals and was an associate at James and Hoffman, specializing election law, non-profit organizations and unions and lobbying for the Federal Law Enforcement Officers Ass and DE Shaw & Co.
Through this work, he was acquainted with the founders of Juno Online Services and realized that as one of the first Internet companies with the ability to geo-target, they could have the first product that could target specific states and Congressional Districts and generate grassroots emails to Congress.  So Roger joined Juno as a Vice President and founded the Juno Advocacy Network in 1998.  At JAN he pioneered techniques like using online petitions and surveys for list building and activist recruitment.  Campaigns and Elections Magazine named Roger a Rising Star of American Politics in 2000 for this work.
By 2002 there were a number of ways to reach voters and constituents online, so to better serve his clients, Roger founded Advocacy Inc. to provided data, online advertising and consulting services.   Advocacy Data pioneered matching voter files for email addresses, doing the first national match of the voter file in 2003, as well as being the first to provide Members of Congress with emails for official communication. The AAPC recognized Advocacy Inc. and Roger's work on the first political online video advertising with a Pollie Award.
In 2010 Roger founded Advocacy Data to better serve the clients – many of whom were consultants and didn't want to purchase data from a firm that also did consulting.
Recognition:
Speaking Engagements/Expert Panelist
American Association of Political Consultants (AAPC) Politics Online Conference House Democratic Caucus Retreat Internet World American League of Lobbyists Grassroots Forum, Public Affairs Council 2006 International e-Particip ation and Local Democracy Symposium Initiative ProDialog Conference (Berlin, Germany)
Awards
Campaigns & Elections, Rising Star of Politics 2000
American Association of Political Consultants, Pollie Award 2002.
Patents
Method and apparatus for delivering electronic advocacy messages, US Patent #6,311,211 10/30/2001
Authored by Roger Alan Stone
Politico Obama can learn from 'Godfather' 9/21/2010
Campaigns & Elections Campaign Success Right from Your Desktop: The Value of Targeted Email 10/27/2010
The Washington Post Editor's Query. 5/11/2008
Campaigns and Elections Using the Internet to Build Citizen Armies 4/2001 p44
Campaigns & Elections 20,000 Emails in Two Weeks: The NEA Example Feb 1999
Columbia Journal of Law and Social Problems The Mass Plaintiff: Public Interest Law, Direct Mail Fundraising and the Donor/Client 1992
Roger Alan Stone featured in:
2011
Campaigns & Elections Republican National Committee to Outsource Voter File 5/23/2011
2010
The National Journal How Much Should Candidates Court The Web? A Recent Suggestion From Newt Gingrich Probably Aims Too High, Ad Buyers Say 11/7/2010
2008
Roll Call Members Offered New Video Platform. Companies Pitch Rules-Friendly System 4/17/2008
2007
NBC.com Obama takes MySpace page from backer 5/3/2007
2006
Campaigns and Elections Staying Up To Date: Tips On How To Use VoIP 7/2006 p56
ClickZ PointRoll and Others Reach Out to Undecided Political Market 6/29/2006
The Washington Post Loophole a Spigot for E-Mail. 6/11/2006
ClickZ As Politicos Race to Match Voter Data to E-mail Data, Reactions Vary 3/31/2006
2005
The Chicago Tribune Technology travels to House 8/27/2005
The Hill Rep. Stark to pioneer e-mail tool for speech 2/01/2005
San Francisco Chronicle FREMONT / Stark is first to put video on congressional Web site 2/5/2005
Roll Call Expanding @dvocacyInc. 7/28/2005
Roll Call Iowa goes Indie 7/28/2005
2004
The Washington Post Political Spam Pervades Personal Computers 11/2/2004
Campaigns and Elections The Internet as a Get Out the Vote Tool 9/2004 p35
The Washington Post Consultants Deliver Politics To Voters' Inboxes, at a Price 8/29/2004
Roll Call Members Turn to Vendors for E-mail Address Lists 1/5/2004
Media Post 527 Groups Take To The Web In Preparation For 60-Day Pre-Election Onslaught 7/2/2004
Media Post Politicos Use Email To Get Out The Vote and Rake In the Cash 7/14/2004
Business Wire 24.8 Million Email Addresses Now Available for Political Communications from the Voter Emailing Company; Political Groups Can Target Voters Through Email Just Like Direct Mail 8/2004
2003
The New York Times Legislators say their unsolicited e-mails aren't junk  12/28/2003
Roll Call @dvocacy with a Capital @ 3/20/2003
2001
Campaigns and Elections Rising Stars of Politics 2000 5/2000 p21
PR Week ANALYSIS: Political PR – Advocacy groups use Internet to advantage Advocacy groups have realized sooner than corporations that the Web is the place to go when it comes to rallying support 1/8/2001
2000
The Washington Post Political Groups Scramble to Find E-Mail Addresses Of Likely Backers 10/22/2000
Direct Marketing News DontBlowIt Aims E-Barrage at Clinton 6/7/2000
Business Wire Bradley Presidential Campaign Uses Juno to Reach Voters in Iowa, New Hampshire, and California 1/10/2000
Technopolitical Blog e-advocates/Juno Post-Election Review Finds Net Savvy Challengers Defeat Incumbents 12/29/2000
1999
The Economist Political campaigns online. Beyond the law's reach? 12/9/1999
USA Today Panel highlights online political strategies 10/04/1999
The Washington Post A Gore Campaign Takes Root 7/8/1999
1998
Direct Marketing News Nonprofit Sees Speedy Results Via Net  7/3/1998
Advertising Age Juno Advocacy Network eyes political ad dollars 4/6/1998
Pioneering Internet Work Before Founding Advocacy Data:
At Juno Advocacy Network (1998-2002)
1998
Founded the Juno Advocacy Network (JAN) First online ad network only for politics and advocacy First targeting of Congressional Districts for politics and Advocacy Awarded U.S. Patent #6,311,211 for JAN being the first to use of the Internet to lobby Congress, build lists, etc
1999
First Use of Online Petition Forms to List Building First Online Campaign to Generate 100,000 plus responses in a day to the White House
2000
First Online Advertising for a Presidential Campaign First Test of Political Online Advertising using a control group and other scientific polling techniques
At Advocacy Inc. (2002-2010)
2002
First Use of Voter File Email Lists for Official Congressional Communication
First Use of Online Video in a Political Internet Ad, for which he received the AAPC's Pollie Award
2004
First National Match of US Voter File for Emails
First combined email, phone and direct mail campaign 2006 First Email Newsletter Sending for the U.S. Senate
2008
First use of polling place location emails
First Use of Combined Text Message and Email in a Get Out the Vote Campaign (GOTV) First Use of Social Media Data for Online Fundraising Outreach